What is an Antique? An antique is a collector's item highly valued due to its considerable age.
Why are people interested in antiques? Sentimental value; when people buy antiques it can warm their hearts knowing that it was once loved by someone else many years ago. Pure craftsmanship; we now live in the age of technology where most furniture is made by machines. However, antiques are handcrafted pieces of furniture that still astonish us with their intricate and beautiful handcrafted designs. 
Our team at SoUnique is always excited to come across a valuable find and carries an extensive collection of antiques that will warm your heart while making your space look distinctive. From decorative items to furniture pieces www.sounique.pk carries just the right vintage look that will bring depth into your homes. 
Plates are Not Just for Serving Food
Decorate your dining room or kitchen walls with these plates from our Collector's Category. The first plate, an antique wall plate, has a beautiful dark blue color , and portrays a scene of Greek mythology in its Centre. The second plate exhibits a stunning painting of a scene of a windmill, in sepia tones. The third antique plate, has a floral design with gold accents and the last plate portrays a romantic scene in a garden.
This tapestry shows a scene of a boy and girl in the Rococo era as seen by the outfits they are wearing. Making this an elegant and vintage piece of art for you to hang on your wall. Rococo is French style, focusing on soft lines and colors, which is shown in this tapestry. This tapestry will add a childlike softness to your room, and also adds a bit more texture. Tapestries can be hung on walls, but it can also be used as a rug, or hung on to your sofa as a complimentary piece.
Roll Out the Red Carpet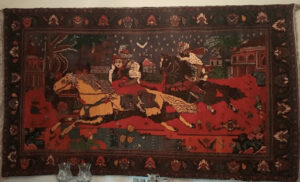 This intricately hand woven rug from Baku portrays an old historical tale from the region of Baku, Azerbaijan. Making this not only a beautiful piece of art but a collectors item perfect for your wall. This rug will give a rich feel to any room it's displayed in, not only because of its digestible color palette but also because of its history. It is a preloved item and available on sale.
Vintage Qum Carpet` from Iranian province of Qum (Qom) from the 1960s. This carpet is from the brand Rare Carpets, one of SoUnique's many brands. 
Herati Aghani Carpet was made in Afghanistan with Senneh knots. It has beautiful, dynamic colours and will liven up any space it is in. A statement piece indeed.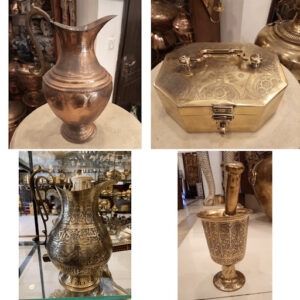 Heavy Metal Never Gets Old
Needle Carved Pandaan is a vintage piece made of brass, showcases a beautiful and intricate design of theTaj Mahal making this a rare item. This makes a great conversation piece.  "Paan" is a betel-nut in leaf with crushed coconut, sugar syrup, roasted fennel and tobacco. "Paan", a pre-partition delicacy of our forefathers, was a household, after meal, tradition. Supposed to be a mouth freshener and digestive aid. 
This particular piece can also be used as a condiment dish.
Antique Copper Jug can be used for pouring water and other drinks. It can also be used as a vase for flowers. This jug on olden days was used as a hand washing jug over a basin bowl.
Calligraphic Jug is inscribed with the Quanic verse, Ayat-Ul-Kursi hand carved all over.  This jug gives your room a vintage touch, and is beautifully engraved. The calligraphy on this jug is stunning and breathtaking.
Handcrafted Brass Pestle and Mortar is not only beautifully crafted, it also is functional in the kitchen. This is a practical and alluring piece. It adds a magical ambience to your space.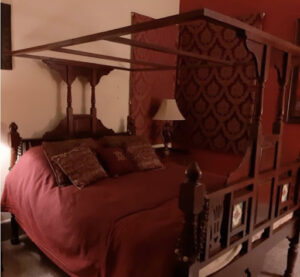 Sleep in Luxe Style 
Sindhi Bed Frame  is a six decades old bed with sindhi accents. This statement piece will compliment your bedroom greatly. This bed is made of sheesham and is a collectors item.